Flat Roof Repair & Replacement | Flat Roof Contactor
If you have a flat roof on your home or business, you know that this type of roof requires special care and expertise. The good news is that new technology has created products that make flat roofs much more dependable and less subject to leaks and other problems than their mid-20th century cousins. However, you still need a qualified flat roofing contractor to ensure that your flat roof repair is executed correctly. As a leading residential, commercial and shingle roof repair expert, MB Roofing LLC is well-equipped to service flat roofs in the area.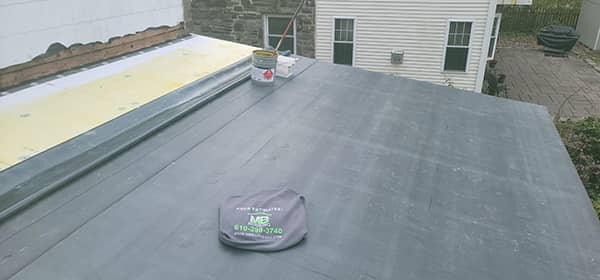 Our team always checks to ensure your flat roof is beyond repair before we start discussing replacement. In many cases, flat roofs can be repaired at a fraction of the cost of installing a new one. If repair is not a good option, the cost of flat roof replacement will depend on various factors, including material type, how much material is needed and the potential need for vents, drains and extra underlayment.
Our Flat Roofing Repair and Replacement Services
There are several roofing materials that can be used on flat roofs. Our roofing technicians can discuss each flat roof option's pros and cons and help you decide on the material that best suits your needs and your budget. Our flat roof repair services ensure your property can be fully restored in the event of damage.
Flat Roof Construction
Flat roof construction can be executed in a number of ways. While this type of roof was traditionally made from sheeting material covered with tar, newer, more dependable materials have made this type of roof obsolete.
Today's flat roofs are made from either hot tar and a gravel-like fiberglass product (a built-up roof system or BUR) or a plastic, poured-on rubber membrane made of EPDM. BUR roofs are attractive and highly fire-resistant. EPDM roofs are light and easy to repair. Light-colored EPDM roofs will reflect the sun's rays and help you save on energy costs. Please consult one of our specialists to learn more about which flat roof construction process is right for you.
Flat Roof Design
Flat roofs are often used on Craftsman-style homes, mid-century modern structures and Frank Lloyd Wright-style residences. This type of roofline adds a sleek, geometric look to a contemporary-style home. Businesses often have flat roofs over storerooms, warehouses or other industrial buildings. Sound flat roof design is just as important as its construction, and with MB Roofing LLC, you can rest assured you'll receive world-class expertise that delivers on quality across the board.
Flat Roof Panel Repair
Whether they are BUR or EPDM roofs, flat roofs are good candidates for repairs. A number of issues can cause leaks in your flat roof. You might have a puncture in the rubber membrane from a falling branch. You might have a section of BUR that's wearing thin from weather exposure. You may have a section of the flashing around your vents or chimney that has started to loosen. Whatever the issue, our flat roof repair specialists can fix your roof so the panels are secure and the roof keeps moisture outside of your home, where it belongs.
Schedule Your Free Roofing Estimate Today!
MB Roofing LLC proudly offers flat roof repair throughout Delaware, Chester and Montgomery counties. For more information about our services, contact us for a free estimate today. Call us at (610) 299-3740 or submit the online form.