Commercial Roof Service | Commercial Roof Repair Company
MB Roofing LLC might be Chester County's go-to residential roofing expert, but we're more than that. We're also our community's premier commercial roofing company!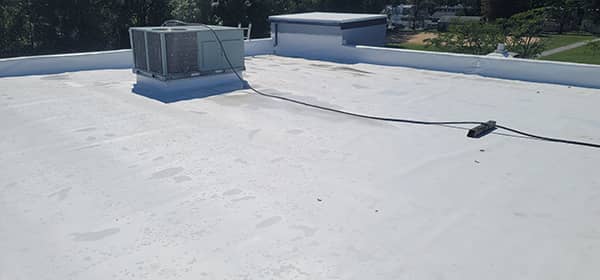 We've been proudly serving local businesses with the best of Chester County commercial roofing services for years now, and we're pretty lucky to be in our unique position in this industry. As a young company (we were incorporated in 2019), we're small enough to still care about every project we take on. But we're also big enough — and experienced enough — to deliver exceptional commercial roofing results on even the largest projects.
Commercial Roof Repair & Installation
As a proudly local commercial roofing company, we understand the local trends and weather conditions. Chester County is our home too, so you can count on us to have the knowledge to deliver the best in roofing results for every one of our customers.
Premium roofing products: We know which products stand up to local weather conditions, and we demand the best from our suppliers.
Continual communication: You can count on us to stay by your side and keep you up-to-date on your project every step of the way.
Expert installation: Whether your building requires a TPO roofing system or EPDM rubber roofing, our workmanship is second to none.
Emergency Repairs Available
For all commercial emergency roof repairs, roof installations, roof replacements, guttering and inspections, you can count on MB Roofing. Call us now and we will be at your door ASAP.
Commercial Roof Service in Delaware County
Whether you're looking for commercial roof repair, maintenance or restoration, it pays to work with a company you can trust. As the top name in local commercial roofing in Delaware County, MB Roofing LLC offers the expertise and unparalleled service you deserve. Take a look at some of our commercial roofing services for more information on how we can serve you.
Expert Commercial Roof Repair Contractor
For any type of building, from hotels and shopping centers to warehouses and big buildings of all kinds, MB Roofing LLC has the resources to get the job done. We understand that commercial roof replacement and repair is not a job to take lightly, which is why we bring the highest level of professionalism to each job. We use the latest industry technology and complete all commercial roofing jobs with care.
When handling commercial roof repair, we will diagnose the problem accurately and efficiently to ensure minor damage doesn't lead to leaks or other serious issues. We will work to resolve the issue with minimal hassle and cost.
Our flat roof repair services are comprehensive, involving checking the entire roof to minimize the risk of future damage. In addition to resolving short-term issues, our commercial roof repair services include analyzing and assessing the overall health of your roof. We work with all types of commercial roofing materials, including TPO and EPDM.
Benefit From Our Commercial Roof Maintenance Program
Led by an expert team of contractors, our commercial roof maintenance program is designed to reduce the risk of costly repairs down the line. Shopping centers, warehouses, hotels and other big buildings rely on maintaining their flat roofs to function on a day-to-day basis. As experts in flat roofs, we know exactly what to look for to ensure long-term safety and stability. The process begins with an in-depth examination of the problems your roof faces and leads to a professional consultation about next steps for long-term maintenance. By closely examining every inch of your roof, we can form a complete picture of the overall health of your roof and help craft a plan that will make it as good as new.
Commercial Roof Restoration Done Right
A comprehensive commercial roof restoration combines repairing, cleaning and painting your roof. This process not only leaves it looking newer, it also extends the life of your roof, saving you money on a costly repair or replacement. If you're not sure whether you need a commercial roof repair, restoration or just maintenance, reach out to our team today for more information.
Schedule Your Free Roofing Estimate Today!
MB Roofing LLC is the leading name in commercial roofing in Delaware, Chester and Montgomery counties. If you're ready to get started on commercial roof repair, maintenance or restoration, contact us for a free estimate today! Call us at (610) 299-3740 or submit the online form.
Commercial Roof Replacement
MB Roofing LLC is a leading provider of high-quality commercial roofing solutions in Delaware County and the surrounding communities. From commercial roof replacement and maintenance to vent installations and flat roof repair services, we're here to ensure that your commercial roof stays in good condition year-round. We have a team of trusted specialists who are highly skilled, trained and experienced in tackling all roofing needs.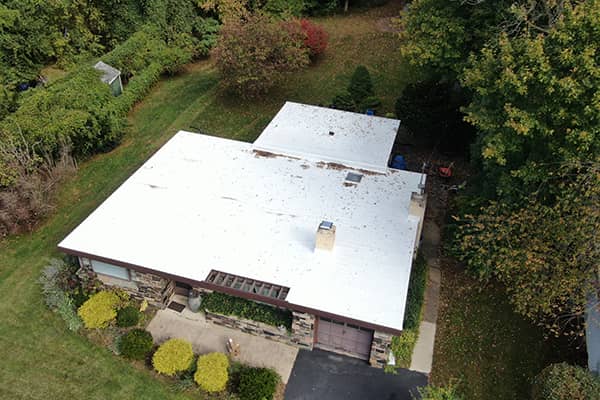 Your Local Roof Installation Experts
Are you looking to upgrade your commercial roofing system? At MB Roofing, we specialize in commercial roof replacement and installation services that will improve the lifespan of your roof.
There's no one-size-fits-all approach to roof installation, which is why our qualified contractors will discuss all available options with you beforehand. We want to make sure that your roofing solution is the perfect fit for your commercial building and that it was built using the most appropriate roofing materials for your needs. Whether it's a bitumen or glass roof installation, MB Roofing LLC will give you a commercial roof that can last.
We work with all types of commercial roofing materials, including thermoplastic polyolefin (TPO) roofing, which consists of a single-ply synthetic membrane and reinforcing scrim and is a popular choice for flat roofs. Our roofing technicians also work with ethylene propylene diene terpolymer (EPDM) roofing, an incredibly durable synthetic roofing membrane perfect for two-slope buildings as well as flat roofs.
Industrial Roof Service
If you're a business owner or property manager, making decisions about roof repairs and replacements can be difficult. MB Roofing LLC proudly offers first-in-class industrial roof solutions tailored to your individual needs, including:
Industrial roof vent installation
Commercial roof replacement, repair & maintenance
Industrial Roof Vent Installation
Commercial ventilation is a critical part of any business. Adequately installed roof vents help to keep the air clean and create a healthy environment for workers. Our expertly trained HVAC contractors provide a wide range of roof vent installation options to improve air quality, save time and boost employee morale. With over 20 years of experience under our belt, our commercial roof specialists can outfit your building with desirable ventilation technologies, including:
Automated fans
Variable Frequency Drives (VFD)
Humidification
Ozone control
Exhaust systems
Commercial Roof Drains
Does your building's roof have adequate drainage to prevent water ponding? Without proper drainage, the roof membrane can deteriorate and cause damage to other building systems — both of which are expensive to repair or replace. This is especially important for flat roofs, which lack the necessary slope to allow water to drain by itself and which are more susceptible to long-term damage.
If you're looking to install or replace commercial roof drains, look no further than MB Roofing. We offer a range of commercial roof solutions designed to prevent water ponding and protect against premature damage to your roof. Not only will commercial roof drains extend the lifespan of your roof, they'll also save you money in the long run and prevent costly replacements.
Schedule Your Free Roofing Estimate Today!
Whether you're looking for replacement, repair or vent installations, MB Roofing LLC can help. We offer transparent commercial roofing services, which means there are no hidden costs or additional fees. Unlike other companies, we can find innovative ways to save you money without cutting corners. For more information about our commercial roof replacement services, contact us today for a free estimate. Call us at (610) 299-3740 or submit the online form.