Residential Roof Repair Services | Asphalt Shingle Roofing Services
Across the United States, asphalt shingle roofing is a best seller for residential roofs, and we are specialists in its installation and repair. If you and your family need to replace your roof this year, your first step should be to get a free roof estimate from a reputable local roofing expert—someone like us. MB Roofing LLC can give you a detailed, no-obligation analysis of your roof, so you can make an informed decision. Integrity matters to us, so you can trust my team of professional roofers to give you the full picture when it comes to your home.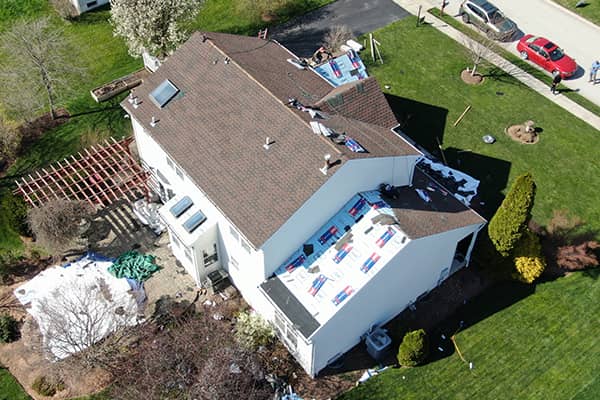 Residential Roof Repair Near Montgomery County PA, Newtown Square & More
Good service comes down to peace of mind and value for money…and my team's attributes our success to delivering on both. With over a decade of local roofing experience and industry-leading workmanship warranties, you can place your residential roof installation in our hands.
The benefits of asphalt shingle roofing aren't all cosmetic — although an expertly installed asphalt shingle roof is a sight to behold. But there are other reasons we recommend this as a solid material choice for residential roof installation, too:
Affordable to install and repair
Versatile to fit across various roof pitches and design styles
Low-maintenance, durable, easy to customize
Put simply, we love asphalt shingle roofing and our clients do, too. We're also a leading supplier and installer of asphalt shingle roofing. Our clients choose MB Roofing LLC because we've built strong connections with top manufacturers and suppliers, we know this industry, and we take pride in doing the best by Pennsylvania homeowners.
Residential Flat Roof Repair Services Throughout Pennsylvania
Our flat roof repair services are designed to provide homeowners with the highest quality repairs and maintenance for their flat roofs.
Our team of experienced professionals is equipped with the latest tools and techniques to ensure that your flat roof is repaired quickly and efficiently, minimizing any disruption to your daily routine.
We understand that a damaged or leaking flat roof can cause significant stress and inconvenience, which is why we offer a comprehensive range of repair services to address any issue you may be experiencing.
From minor repairs to complete roof replacements, our team is dedicated to providing you with the best possible solution for your specific needs.
Residential Roof Leak Repair & Restoration Services
If your roof suddenly springs a leak, you can count on MB Roofing LLC to provide the highest quality roof leak repair services for your home. From leak inspections to repairs to installations, we provide superior service, making sure your house looks good as new again. Not only are our prices reasonable and easy on your wallet, we will also provide a quick response.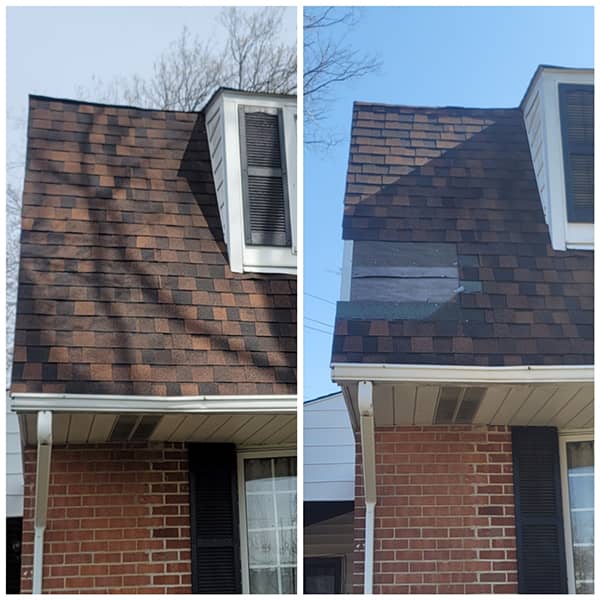 Emergency Repair: Fix It Before It Gets Worse
If you notice a leak or other issue, you may need emergency roof repair service to protect your home from further damage in the event of a weather event. The truth is that even small damage, such as a cracked or missing shingle, can lead to more serious problems down the line – not only compromising the integrity of your roof but also your home's structure. If you are worried about your roof, don't delay! Give MB Roofing LLC a call and we will provide quick and quality emergency roof repair service.
When to Call for Professional Roof Repairs
The first indicators of a roof leak are not as obvious as you might think. It could be slight dampness or just a drop or two in certain places. In these instances, it is easy to think that your problem is not big enough to call in professionals. But those small signs can lead to bigger complications.
Roof leak repair should not be ignored because of its potential to damage other parts of your house. From mold and mildew growth to wood rot and structural damage to electrical short-circuits, the dangers are severe if left unchecked. For the best roof repair service, MB Roofing LLC is your go-to roofing contractor in Delaware County.
Detailed Repair Estimates
Cost is a big consideration when it comes to roof leak repair, which is why we encourage you to contact MB Roofing LLC for an estimate for your specific needs. We will provide a customized quote that is completely without obligation, giving you the flexibility to decide whether to move forward with a repair.
We always provide free repair estimates!
Ninety-nine percent of the time, we find and solve the problem the first time.
We don't just look at the main problem; we inspect the entire roof for future issues that may occur.
Help With Your Insurance Roof Replacement
If your roof has been affected by a major storm or weather event, you may be eligible to file an insurance claim to cover the repair or replacement costs. MB Roofing LLC can work with you for all your insurance roof replacement needs. We know what insurance companies need and can help you meet claim requirements. Just give us a call to find out how we can work together.
Schedule Your Free Roofing Estimate Today!
MB Roofing LLC is an experienced and professional residential roof leak repair and replacement contractor. Contact us for a free estimate and let's talk! Call us today at (610) 299-3740 or submit the online form.
Residential Storm Damage Roof Replacement
Depending on the extent of the damage to your roof from a recent storm event, you may need to get it repaired or replaced. At MB Roofing LLC, we provide storm damage roof replacement services that include everything from asphalt roof replacement to metal roofing services to new roof installation. Our licensed and experienced roofers have the capability to handle all kinds of residential roofs.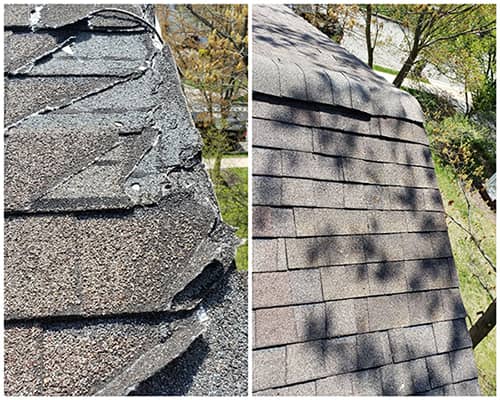 Roof Replacement vs Roof Repair?
Roof replacements are an excellent investment in improving the overall quality of your home and will ultimately enhance its value. At MB Roofing LLC, we will assess whether your roof needs only a simple repair or full replacement to provide you with the right solution. Maintaining the highest standards of workmanship, we will make sure you benefit from the best advice and solution possible.
Comprehensive Roof Replacement Services | Montgomery County | Newtown Square
We handle all types of residential roof replacement needs, no matter what material you choose. Our experience in the roofing industry puts us in an advantageous position to make sure your roofing job is completed to the highest standards – both in materials and workmanship. Cheap, imported materials may sound exciting because of their low prices, but they won't give your home the protection it deserves, and worse off, you may end up having to replace your roof more often than you ever anticipated. A good, quality storm damage roof replacement job should last you for years to come, and that is what we provide.
New Roof Installation Experts
MB Roofing LLC can take care of your new installation needs quickly and easily. We are on time and complete the work when we say we will. A new roof installation is a big investment for the long term, so it isn't always about price. Quality should always take precedence because you're not just considering a year or two, but decades in the case of a roof. Ultimately, upgrading your roof will pay dividends in the long run, especially if you are looking to cash out at some point because it will increase your property's value. Contact us today for a free estimate on your new roof installation.
Schedule Your Free Roofing Estimate Today!
MB Roofing LLC offers storm damage roof replacement throughout Delaware, Chester and Montgomery Counties. If you are looking for a thorough, timely, and high-quality storm damage roof replacement job for your home, it may be time to get in touch with us. We can also provide residential roof repair and flat roof repair services for your home. Contact us for a free estimate today! Call us at (610) 299-3740 or submit the online form.