Gutter Repair & Replacement Services | Roof Gutter Installation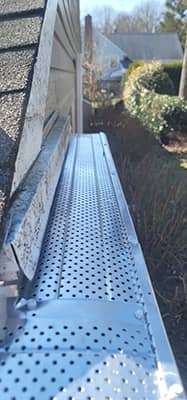 Are you dealing with a faulty roof or rain gutter? Is water gushing through holes in your guttering? Are water stains appearing on your ceiling? In Delaware County and beyond, MB Roofing LLC can attend to any gutter repair need you have. Our professional, highly experienced team will assess damage and prepare a free, no-obligation quote. They can then repair or install gutter material quickly and to your complete satisfaction.
Our Roof and Guttering Repair Services
Calling licensed roofers to assess and repair gutters will save you time and money and avoid potential injury. Qualified roofing workers are experienced at safely working high above ground level. The tools they use include plumbers' snakes, gutter brushes, carpenters' levels, rivet guns and extendable ladders.
Our roof and gutter repair services include:
Removing any plant material that has fallen or blown into your rain gutter.
Checking gutter slope and draining any pooled water.
Looking for rust or holes.
Repairing leaks along joints.
Fixing any gutter sagging by tightening clip hangers and other fasteners.
Roof Gutter Installation
Over time, it may become more cost-effective to replace gutter installations, particularly if repair work is frequently required. While gutter replacement may seem simple, there are technical considerations such as:
Roof guttering must be the right size for the roof, with placement ensuring stormwater is diverted correctly.
Gutter fixings and hangars must support gutter weight in the event of heavy rain or snow.
Plumbing and building regulations must be met.
Homeowners also need to account for how gutter shapes and colors will suit the appearance of their exterior. Our experienced team will guide you through all these requirements and considerations.
Roof Drain Installation
Whether downpipe replacement is part of a gutter repair and installation project or a job all on its own, there are several technical requirements to consider, including:
Placement so that drainage to desired locations and stormwater services is precise. Placement may include diverting some water runoff to garden features or on-site water detention facilities.
Ensuring regulations on the number and placement of downpipes are met.
Whether older residences may benefit from downpipes with extra capacity.
Schedule Your Free Roofing Estimate Today!
For more information about roof and gutter repair or any of our other offerings, including residential roof repair and commercial roof repair, contact MB Roofing LLC for a free estimate today! Call us at (610) 299-3740 or submit the online form.