Commercial Roofing Services
MB Roofing LLC might be Chester County's go-to residential roofing expert, but we're more than that. We're also our community's premier commercial roofing company!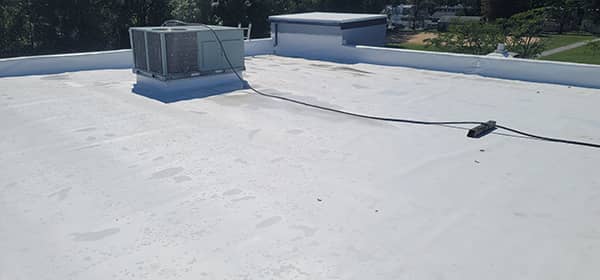 We've been proudly serving local businesses with the best of Chester County commercial roofing services for years now, and we're pretty lucky to be in our unique position in this industry. As a young company (we were incorporated in 2019), we're small enough to still care about every project we take on. But we're also big enough — and experienced enough — to deliver exceptional commercial roofing results on even the largest projects.
Commercial Roof Repair & Installation
As a proudly local commercial roofing company, we understand the local trends and weather conditions. Chester County is our home too, so you can count on us to have the knowledge to deliver the best in roofing results for every one of our customers.
Premium roofing products: We know which products stand up to local weather conditions, and we demand the best from our suppliers.
Continual communication: You can count on us to stay by your side and keep you up-to-date on your project every step of the way.
Expert installation: Whether your building requires a TPO roofing system or EPDM rubber roofing, our workmanship is second to none.
Emergency Repairs Available
For all commercial emergency roof repairs, roof installations, roof replacements, guttering and inspections, you can count on MB Roofing. Call us now and we will be at your door ASAP.
Schedule a Free Roofing Estimate Today!
For expert workmanship and service that brings peace of mind, you can count on MB Roofing LLC for all your commercial roofing services in Chester County. Book in your free roof estimate today! Call us at (610) 299-3740 or submit the online form.
Commercial Roofing Services