Shingle Roof Repair Specialist in Delaware County
Harsh winters and warm summers put pressure on your roof shingles, which could cause them to crack or break down over time. To protect your home from any damage or leakage, you will need shingle roof repair as quickly as possible. At MB Roofing LLC, we specialize in residential roof repair and commercial roof repair for your shingle roof.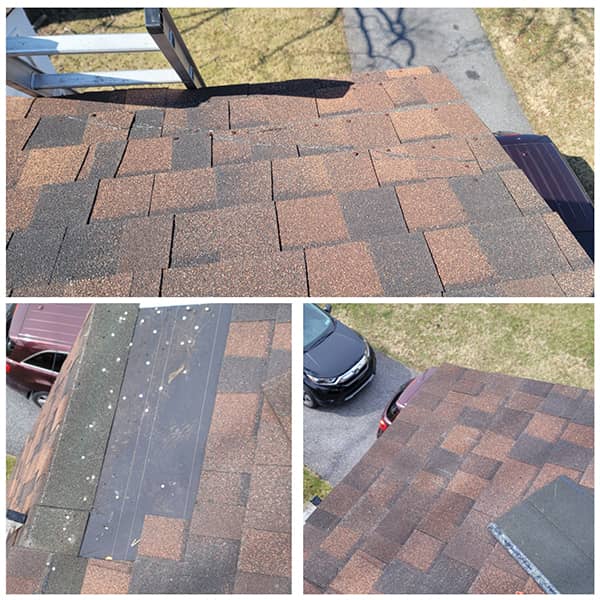 Shingle Roof Installation
There is no denying the aesthetic beauty of a shingle roof, which is why it is a popular choice for many Delaware County homes. True craftsmanship involves a myriad of factors, including choosing the best materials, designing the look and feel and quality of work to preserve its outer appearance and function. You need a roofing contractor who is experienced at shingle roof installation and will get it right the first time. That's why MB Roofing is a great choice if you value strength and beauty.
Shingle Roof Replacement Specialist
If your roof is beyond repair and needs to be replaced, we can take care of that for you too. Replacing your roof is a huge investment that will impact the value, functionality and appearance of your home. A damaged roof can affect your quality of life and expose your home to costly problems in the long run, which is why shingle roof replacement may be the best option for you.
It is important to ensure your home has a strong and reliable roof to protect you and your family from the elements. Whether you need to replace a timeworn roof or one that has been recently damaged in a storm, the shingle roof replacement specialists at MB Roofing LLC are just a call away.
We Can Fix a Missing Roof Shingle
If your roof is missing a shingle or two, sometimes, an entire replacement is not necessary. Shingle roof repair may involve fixing and replacing a missing roof shingle on certain parts of your roof too. All you need to do is give us a call, and we will organize an inspection to see how badly damaged your roof is before offering a practical solution.
Shed Roof Repair Contractor
If your shed roof is damaged from weather elements or over a period of time, you may need to either repair or replace it. Either way, we will first come over to you and inspect your roof so we can help you make the most informed decision for your needs.
Schedule Your Free Roofing Estimate Today!
MB Roofing LLC offers shingle roof repair throughout Delaware, Chester and Montgomery Counties. Our long-standing expertise and excellent reputation in the region puts us in a good position to deliver the best quality materials, workmanship and finish for your home. Contact us for a free estimate for your specific roofing needs! Call us today at (610) 299-3740 or submit the online form.