Residential Storm Damage Roof Replacement
Depending on the extent of the damage to your roof from a recent storm event, you may need to get it repaired or replaced. At MB Roofing LLC, we provide storm damage roof replacement services that include everything from asphalt roof replacement to metal roofing services to new roof installation. Our licensed and experienced roofers have the capability to handle all kinds of residential roofs.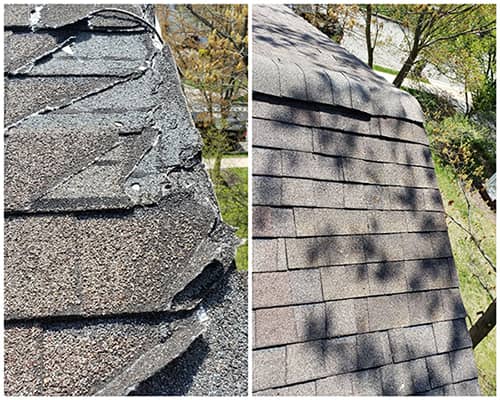 Roof Replacement vs Roof Repair?
Roof replacements are an excellent investment in improving the overall quality of your home and will ultimately enhance its value. At MB Roofing LLC, we will assess whether your roof needs only a simple repair or full replacement to provide you with the right solution. Maintaining the highest standards of workmanship, we will make sure you benefit from the best advice and solution possible.
Comprehensive Roof Replacement Services
We handle all types of residential roof replacement needs, no matter what material you choose. Our experience in the roofing industry puts us in an advantageous position to make sure your roofing job is completed to the highest standards – both in materials and workmanship. Cheap, imported materials may sound exciting because of their low prices, but they won't give your home the protection it deserves, and worse off, you may end up having to replace your roof more often than you ever anticipated. A good, quality storm damage roof replacement job should last you for years to come, and that is what we provide.
New Roof Installation Experts
MB Roofing LLC can take care of your new installation needs quickly and easily. We are on time and complete the work when we say we will. A new roof installation is a big investment for the long term, so it isn't always about price. Quality should always take precedence because you're not just considering a year or two, but decades in the case of a roof. Ultimately, upgrading your roof will pay dividends in the long run, especially if you are looking to cash out at some point because it will increase your property's value. Contact us today for a free estimate on your new roof installation.
Schedule Your Free Roofing Estimate Today!
MB Roofing LLC offers storm damage roof replacement throughout Delaware, Chester and Montgomery Counties. If you are looking for a thorough, timely, and high-quality storm damage roof replacement job for your home, it may be time to get in touch with us. We can also provide residential roof repair and flat roof repair services for your home. Contact us for a free estimate today! Call us at (610) 299-3740 or submit the online form.