Acting as the first line of defense against the elements, roof shingles bear the brunt of the weather and environmental factors all year round. Therefore, it's crucial we pay them the attention they deserve, as a well-maintained roof can last for decades.
Repairing Roof Shingles: A Step-by-Step Guide
Here are the steps you need to follow:
1. Gather the necessary materials. You will need a new shingle that matches the size, shape, and color of the existing ones, four roofing nails, a flat pry bar, a hammer, a utility knife, and roof sealant.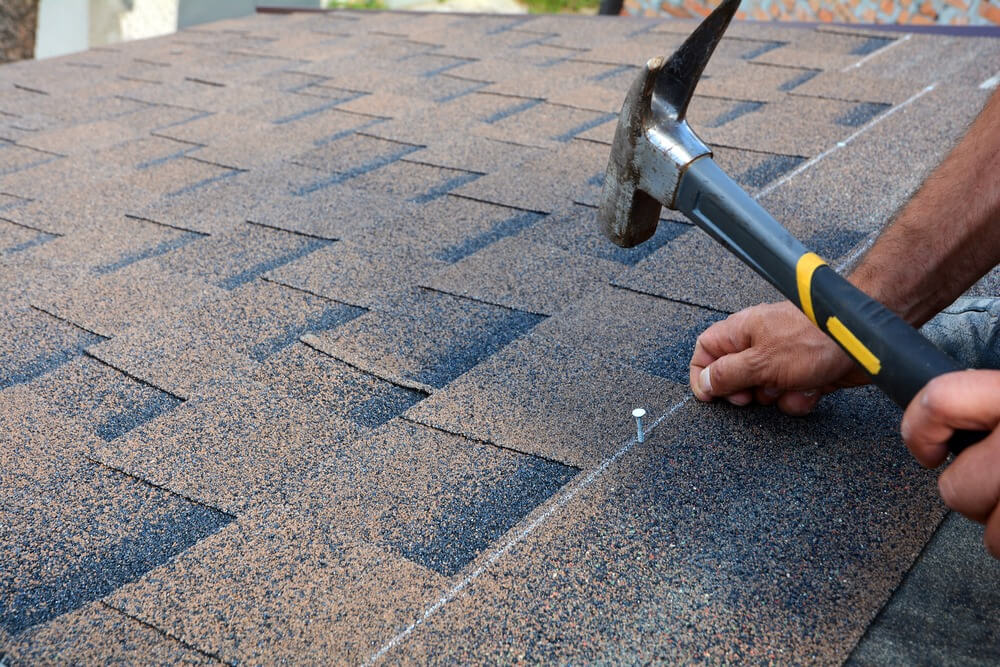 2. If you don't have any leftover shingles from when your roof was installed, you can buy them from a home improvement store. If you can't find an exact match, you can use a shingle from a less visible area of the roof and replace it with the new one.
3. Remove the broken shingle. Before you climb on the roof, make sure you have a sturdy ladder and wear appropriate safety gear. Locate the broken shingle and use the flat pry bar to lift up the edges of the surrounding shingles. Carefully pull out the nails that hold the broken shingle in place and slide it out. You may need to cut through the sealant with the utility knife if it is too sticky.
4. Install the new shingle. Align the new shingle with the existing ones and slide it into the gap left by the old one. Make sure it is flush with the roof surface and does not overlap with any other shingles. Secure it with four roofing nails, one at each corner. Press down on the shingle to make sure it is firmly attached.
5. Seal the new shingle. Apply a generous amount of roof sealant to the base of the new shingle and spread it evenly with your finger or a putty knife. This will help prevent water from seeping under the shingle and causing leaks or mold growth. You can also apply some sealant to the nail heads to cover them up.
Video: Hand Sealing Shingles
6. Check for any other issues. While you are on the roof, inspect it for any other signs of damage or wear. Look for cracked, curled, or missing shingles, as well as loose or exposed nails. If you find any problems, repeat the steps above to fix them as soon as possible.
Repair Options
When it comes to roof shingle repairs, you typically have two options: roll up your sleeves and take the DIY route, or hire a professional to do the job.
Both options have their pros and cons, and the best choice often comes down to the severity of the damage and your level of comfort with home repair projects.
If you're considering a DIY fix, there are a few things to keep in mind.
First, always prioritize safety. Roof work can be dangerous, especially if you're not accustomed to heights or don't have the right safety equipment.
Second, be sure you have a good understanding of the problem and the necessary solution. This might involve reading up on roof repair techniques, watching instructional videos, or even consulting with an expert at your local home improvement store.
DIY repairs can be effective for minor issues, such as replacing a few missing or damaged shingles.
It's a relatively straightforward process that involves removing the old shingle, applying roofing cement, and then nailing the new shingle in place. However, for more complex problems, such as widespread granule loss or significant curling and cupping, a DIY fix might not be adequate.
In these instances, it's often best to call in a professional. While this option is typically more expensive, it also offers several advantages. Professional roofers have the expertise and equipment to handle any roofing issue, no matter how big or small. They can also identify underlying problems that might not be immediately obvious, such as poor ventilation or structural issues.
Furthermore, hiring a professional can save you a lot of time and stress. Roof repair can be a tricky, time-consuming process, especially if you're not familiar with the work. By hiring a professional, you can ensure the job is done right the first time, preserving the lifespan of your roof and potentially saving you money in the long term.
In conclusion, whether you opt for a DIY repair or hire a professional largely depends on the extent of the damage and your comfort level with home repairs. Whichever route you choose, remember that regular inspection and prompt repair are crucial to maintaining the integrity of your roof shingles.
Signs of Damage
The first sign to look out for is discolored shingles. Over time, exposure to the elements can cause shingles to fade or change color. But if you notice dark streaks, patches or any unusual discoloration, it could be a sign of more serious damage.
Next, missing shingles are a clear sign that your roof requires attention. Shingles may blow off in high winds, or they may become loose and slide off your roof. This leaves your roof deck exposed to the elements, which can lead to water leaks and other issues. If the uncovered area on the roof is large, it can significantly affect your home's ability to keep heat in and water out.
Another common sign of damage is hail dents. Hailstones can be small as a pea or as large as a softball, and they can wreak havoc on your shingles. Depending on the size and speed of the hailstones, they can cause small dents or even gouges in your shingles. If you've recently experienced a hailstorm, it's wise to inspect your roof for any visible damage.
Water stains on your ceiling are not to be ignored and are often a sign that your shingles are failing to protect your home from rainfall. These stains typically appear as yellow or brown spots on your ceiling or walls. They indicate water infiltration, which can lead to mold growth, structural damage and eventually an outright leak if left unattended.
A subtler sign of shingle damage is the presence of granules in your gutters. These are little, sand-like particles that coat the surface of your shingles to protect them from sun damage. Over time, these granules can be washed away by heavy rains or blown off by excessive winds. If you notice a substantial amount of granules in your gutters, it usually means that your shingles are nearing the end of their lifespan.
Curled or crooked shingles are a sign of advanced wear and tear. This curling or warping of the shingles can be caused by heat or moisture trapped in the attic or by high winds that lift the shingles and distort their shape. This not only affects the aesthetic appearance of your home but can also lead to leaks and other roofing issues if not addressed promptly.
Finally, another relatively common problem is algae growth, usually identifiable as dark streaks running down the shingles. While algae growth doesn't necessarily harm the shingles directly, it can ruin the aesthetic appeal of your home. Moreover, the damp conditions that favor algae growth can also favor the growth of other damaging organisms like moss and lichen.
These common issues can lead to significant damage if left unattended. Remember that early detection and prevention are always better than costly repairs down the line.
Parting Words
The longevity of your roof shingles depends on a number of different factors. One of the primary causes is aging. As time tick-tocks past, even the most stalwart and robust shingles start to show signs of wear and tear. This is a natural process, somewhat akin to the wrinkles that appear on our faces as we age. It's not something we can stave off indefinitely, but with proper maintenance and care, we can try to push it back a bit.
Another common cause of shingle damage is moisture. This is particularly true in areas with high humidity or heavy rainfall.
Unpredictable elements like wind and hail can also wreak havoc on your shingles. Both of these can result in water leaks, leading to further damage to the interior of your home.
Issues can also arise due to improper installation of the shingles.
Last but not least, manufacturing defects and excessive heat can also cause problems. Defects in the manufacturing process can make the shingles susceptible to damage. If there are any inconsistencies in the material or the thickness of the shingles, it can impact their performance and lifespan.
And then there's heat – particularly in areas with scorching temperatures, the sun's intense heat can cause the shingles to dry out and become brittle, leading to cracking or granule loss.
Regular inspections, understanding the signs of damage, being aware of the causes, and taking timely action for repairs, whether it's DIY or professional, are all part of a necessary effort to keep your home safe, warm, and dry.
In wrapping up, never underestimate the importance of taking good care of your roof shingles – it's an investment in the longevity of your home and peace of mind.