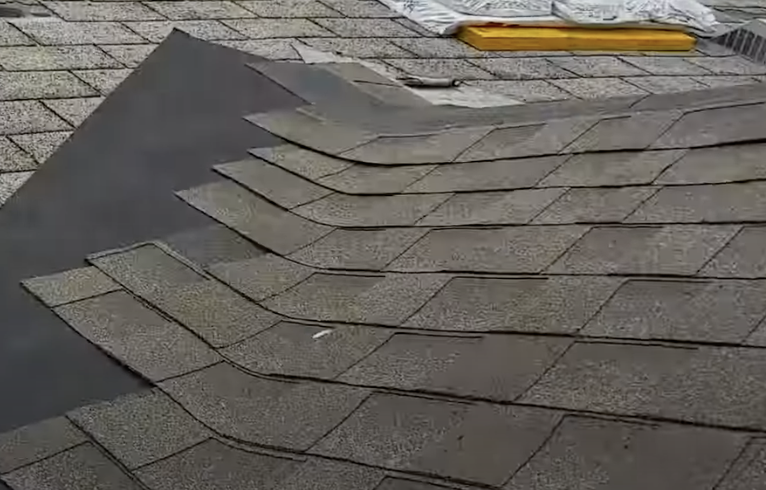 They believe it might provide added protection or perhaps give them a quick fix for leaky roofs. 
However, this is far from the truth.
In reality, a roof's leaks, flashing, and other damages cannot be simply repaired by adding an extra layer of shingles.
This is a commonly held misconception that needs to be cleared up.
Video: Two Layers of Shingles? Bad Idea!!
Solutions to Minimize Damage
For homeowners dealing with roof damage, there are a few temporary measures you can take to minimize further damage.
These are not meant to be long-term fixes, but they can help keep things under control until a professional roofer can assess the situation.
One of the most common solutions is patching the roof with roofing cement. This is a fairly straightforward process that involves cleaning the damaged area, applying the cement, and allowing it to dry.
Cement patching is particularly effective for small holes and leaks.
Keep in mind, however, that cement patching is a temporary solution and will not address the underlying cause of the damage. It is only a way to prevent the issue from worsening until a professional examination can be carried out.
Another approach is to cover the suspected leak areas with tarps. Tarps can provide a waterproof barrier that shields your roof from further precipitation.
This can be especially useful in the midst of a rainstorm when immediate repairs are not possible. Heavy-duty tarps, secured with ropes or bungee cords, can help divert water away from the damaged area.
Remember, this is a temporary fix and it's important not to rely on a tarp as a permanent solution.
Caulking is another effective way to minimize roof damage. Caulking around chimneys, vents, and pipes can create a seal that prevents water from seeping into your home.
This is a preventative measure that can help you avoid costly repairs down the line. It's also a relatively simple process that can be done with standard caulking materials from your local hardware store.
In many cases, a combination of these solutions will be the most effective way to minimize damage.
You might need to patch a hole with cement, tarp over a larger area of damage, and caulk around roof penetrations.
Leaks Not Always in Exact Spot
Leaks are not always vertically aligned with their source, as is commonly believed. Instead, leaks often happen around 'penetrations' in your roof.
The term 'penetrations' refers to any component that breaks through your roof and disturbs its flat surface.
This can include chimneys, vent stacks, exhaust vents, skylights, antenna mounts, or even roof-mounted HVAC units.
These penetrations are particularly susceptible to leaks because they disrupt the smooth, unbroken surface of your roof.
They create gaps and joints where water can easily find entry points. Especially around the flashing – the sheet metal that bridges the gap between the penetration and the roof – leaks can frequently occur.
It's important to realize that the key to effectively addressing a roof leak is to identify the true source, not merely where it manifests within your home.
This requires a keen understanding of how a roof is constructed, how water behaves, and the ability to trace the path of the leak back to its point of entry.
This can be a tough job, especially for those who are not trained roofing professionals.
That's why it's always recommended to call in the experts when you suspect a leak. Misdiagnosing the problem or attempting a DIY fix can often lead to more damage, or at the very least, a reoccurrence of the problem.
What To Do If Repairs Are Not Possible
If you find yourself in a situation where roof repairs are not feasible, you might be feeling overwhelmed and unsure of your next steps.
It's a daunting situation to face, but the most effective action you can take is to call a professional roofing contractor for an inspection and estimate.
It's highly advisable not to take any risks when it comes to roof repairs, especially when you're dealing with the complexity of multiple layers of shingles. A trained professional will be able to assess the situation accurately and provide the most effective solutions.
Adhering to local building codes is equally important when it comes to making decisions about your roof.
In many cases, local building codes may dictate how many layers of shingles are permissible on a roof. The professional contractor you consult should be knowledgeable about these codes and can guide you accordingly.
It's important to remember that these codes are in place for safety reasons and should not be overlooked or ignored in an attempt to save money or time.
When discussing your roofing situation with a contractor, don't hesitate to ask questions. Understand why the repairs are not possible, what the potential solutions are, and how long the job could take.
A good contractor will be transparent and patient while answering your concerns. They should also provide you with options that fit your budget and keep your home safe from further damage.
Finally, before any work begins, make sure that the contractor has a good track record. Do some research to find out about their customer reviews and see if there are any recurring complaints.
Ensure that they have the proper licenses and insurance to work in your area. Remember, this is an investment in your home and safety.
Parting Words
Multiple layers of shingles can present more problems than solutions.
One of the main reasons why roofing companies don't recommend or guarantee their work with multiple shingle layers is because the added weight can lead to structural issues in your home.
Roofs are designed to bear a certain amount of weight, and exceeding this can lead to significant complications down the line.
Another reason why multiple layers are discouraged revolves around the fact that shingles cannot be built back up to multiple layers.
Each layer of shingles is meticulously designed and installed to work together to provide the optimal protection for your home. Adding another layer disrupts this delicate balance.
Finally, the fact that multiple layers of shingles make it harder to spot and repair damage should not be overlooked.
When leaks occur, they are typically evident on a single layer of shingles. But, with an extra layer masking the original, it becomes much harder to identify and address these issues. This can lead to prolonged water damage, which in turn exacerbates the original problem.
On the other hand, regular maintenance and inspections can extend the life of your roof and prevent minor issues from turning into major problems.
So, even if you're calling a contractor for a small repair, ask them about regular maintenance plans or tips on keeping your roof in good condition.